CAN SOBER = SOCIAL? YES!
AND IT IS IMPERATIVE FOR THE MENTAL WELLNESS OF MOMS IN RECOVERY.
The Phoenix
Kaley Jones/ Colorado Springs Program Manager
"Together We Rise" is the mantra for The Phoenix – a Sober Active Community started in 2006 in Boulder, Colorado by founder Scott Strode.  Back then, Scott was attending 12-step meetings and inviting people there to come with him to rock climb or box at the gym. It was a grassroots start based on the simple belief that there was a need to help people rise from the ashes of addiction in lockstep with others in healing environments. After receiving additional funding in 2010, The Phoenix expanded to Colorado Springs and Denver and developed core programming that included group fitness, rock climbing, running, cycling, yoga and boxing. In 2017, the organization partnered with Stand Together and began scaling rapidly and have now served over 77,500 people. They now offer sober active communities in 108 counties across the nation with blossoming footprints in London and beyond. Current programs include rock climbing, CrossFit, hiking, mountaineering, rock climbing, ice climbing, salsa dancing, Zumba, art, social events, and Pickleball.
Kaley Jones first came to The Phoenix at age 19. She was early in her recovery, and very angry. "I had been in an intensive inpatient facility for intravenous heroin use for about 10 months," Kaley says. "And when I came back to Colorado Springs I felt like there was no way I was going to be able to stay sober. I couldn't imagine what I was going to do for the rest of my life." I called my drug dealers and old friends and nobody would answer my calls. They knew I needed to be sober. So, I went to a 12-step meeting and met a guy wearing a t-shirt that said "SOBER."  I was mortified that he'd wear that in public," she said. "But he asked me to join a group going bowling and told me about The Phoenix and all the rock climbing and hiking they did on the weekends with friends. And there was that little glimmer of hope within me that I thought maybe, just maybe, I could stay sober and it wouldn't be glum the whole time."
Kaley ended up going to a Phoenix event at a climbing gym in Colorado Springs and says it was the first  time in her life that she was in a recovery setting where she felt like she was "just a person who was attempting to live and maintain a life that would be really beautiful."  One of the things that appealed to her most was that the only prerequisite for participating was that you had to be 48 hours sober. Kaley started rock climbing and fell in love with it. She also fell in love with that man from her 12-step program that took her bowling. They've been married for eight years, and just welcomed a son into their lives!
During COVID, The Phoenix also found ways to keep people connected and supporting each other even when they couldn't be together in person. They now have a whole department that manages all of their virtual platforms and on-demand classes. Participants can join a live online class or they can do on-demand classes when it works for them. The classes are offered nationally and led by instructors across the country. They also have an app and Kaley says that's where they see most connections happening – people sharing photos, talking about their experiences, offering rides, telling each other about sober events, etc.  "We are now seeing connections between individuals who maybe won't ever make it into a physical location, but need the support," she says. "They can reach out and talk to someone immediately."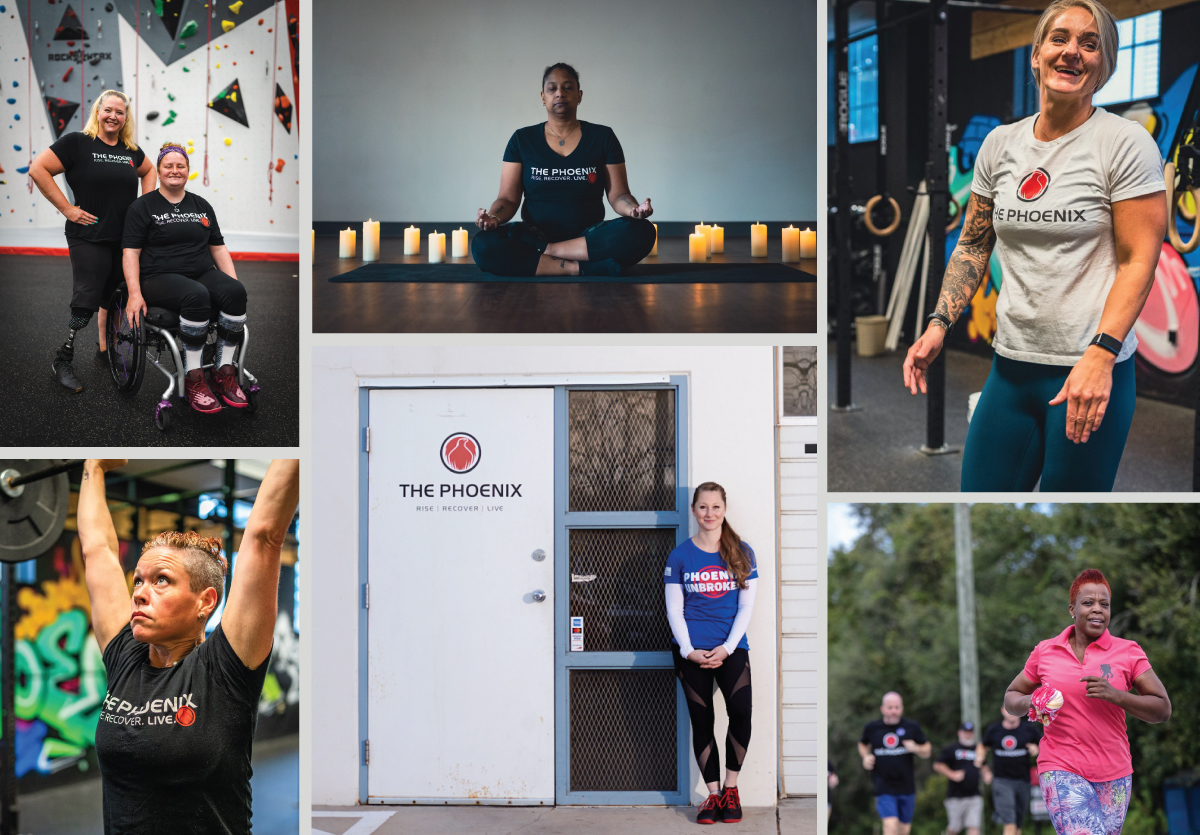 Kaley says things have come full circle for her and she is now helping others to "thrive in our recovery and not just hide behind the shame of what we may have done or had done to us."
"It's incredible having that physical component where you leave with a little bit of sweat on a high five and you know that you've accomplished something like lifting the heaviest lift you've ever done, or making it all the way to the top of the rock climbing wall or having a great volley in pickleball. You feel like you accomplished something that maybe you wouldn't have otherwise done and that win makes you feel like you can win in parenting or you can win in sobriety because if you can deadlift 225 pounds, you've  got to be able to show up for the rest of the stuff -  you're totally capable."